Barbara B Mann Performing Arts Hall | Fort Myers, Florida
Ted Nugent, the electrifying veteran rockstar has been in the business longer than most of us can remember, and for those of us who can? Well heck you'll be there or you'll be square! Fans old and new are flocking to buy tickets to Teds exciting 2022 tour, he heads down to the stunning Barbara B Mann Performing Arts Hall on Sunday 17th July 2022 on part of this years tour. For tickets to the rocking night, simple scroll up until you see the 'get tickets' link, don't miss your chance, click the link now to buy yours immediately! You wont find an experience like this anywhere else! Click buy now!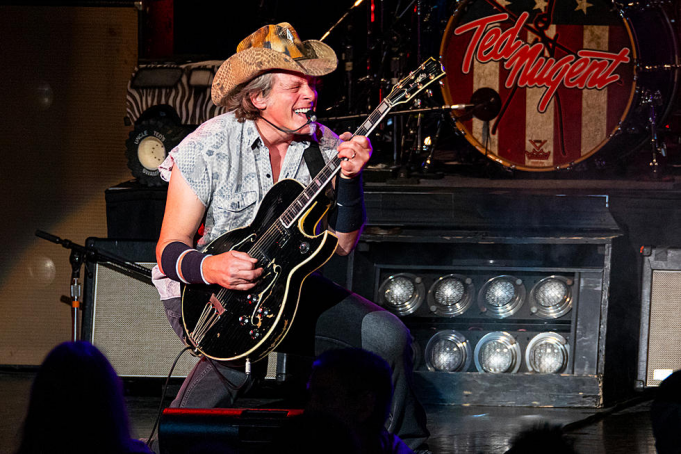 The iconic Ted Nugget is heading out on an exciting new US tour for 2022, playing at the famous Barbara B Mann Performing Arts Hall on Sunday 17th July 2022. The American singer, songwriter and world class guitarist started out as a lead guitarist and singer for the hard rock band 'The Amboy dukes' way back in '63 following the band split he pursued his music career further into the rock scene, recording and touring with huge bands and singers such as the superstar Meatloaf, Charlie huhn and Brian howe. The 'Cat scratch fever' singer joined the 'Damn yankees' in the 80's and 90's, Ted continues to tour and is well known for his exceptional guitar skills and wide ranging, unfaultered voice, his incredible energy and persistence on stage keeps his loyal fans coming back time after time, Ted is an exceptional live performer and his fans know where in for a rocking ride at every show!
Teds work as a recording and live artist is something he has worked for his entire life and career, but most know he shares another passion that he continues to pursue in his veteran years, Ted is a well known activist and isn't afraid to be outspoken on the topics and causes he cares so deeply about, his controversial views draw his fans, who love his advocacy on subjects that matter to him. If you're given the chance to see the rockstar in his element, performing infront of a screaming crown, live on stage, then look no further, tickets are out now for the show at Barbara B Mann Performing Arts Hall, Fort Myers, FL…..and you can buy direct from the 'get tickets' link above, don't miss this rare opportunity!